Because it's so easy to forget… here's a timeline as it happens. Who knows which of these events will prove important? just trying to make a note of the big ones.
---
March 2022
March 9th: Federal reserve stops quantitative easing. You can see the flattening of their balance sheet.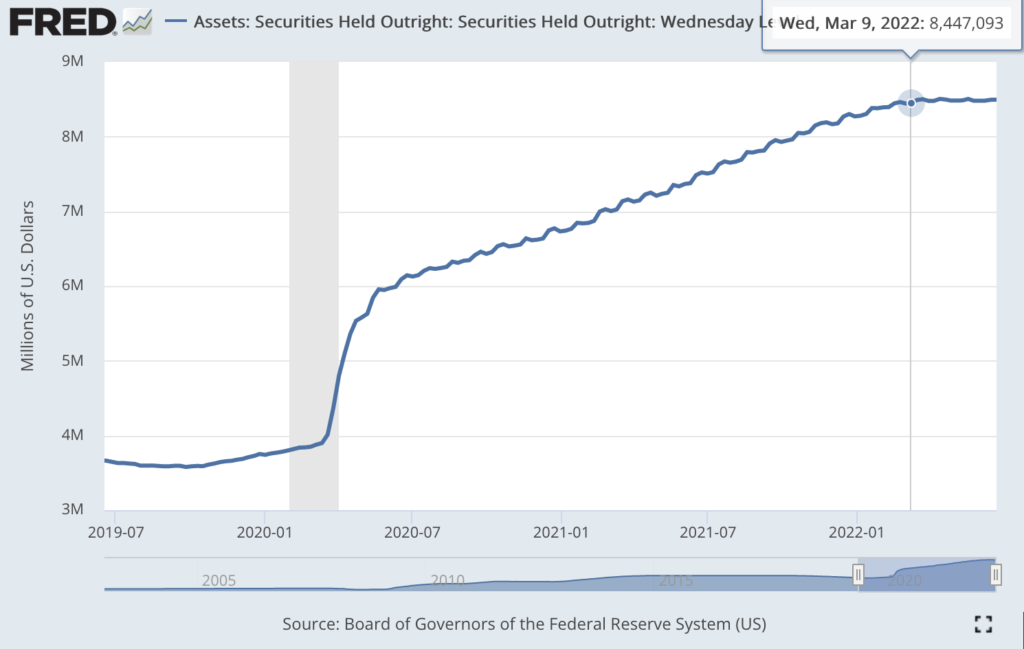 March 16th: Federal reserve raises rates to .25% responding to a CPI of 7.9%.
March 17th: In response to the Fed, home mortgage rates topped 4% for the first time since 2019.
March US Median Home Price: $411,451 which is +16.8% yoy
---
April 2022
April 15th: 30-year home mortgage rates hit 5% for the 1st time in over a decade.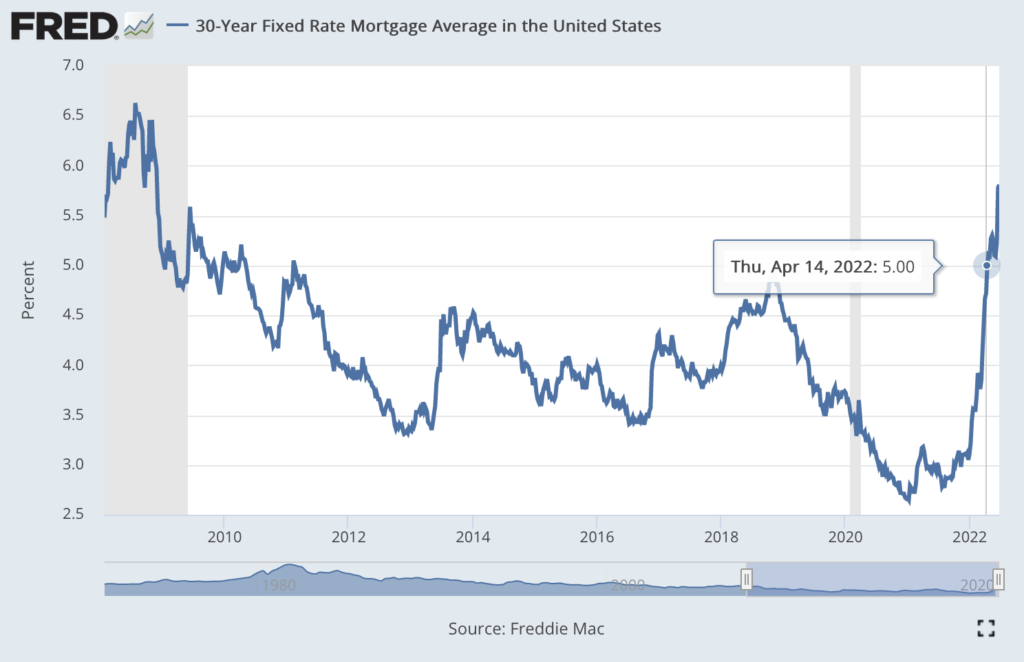 April 30th: April was a rough month for stocks. The Nasdaq fell roughly 15%, its worst month since October 2008. The S&P 500 erased 8.8 percent in April, its worst month since March 2020.
April US Median Home Price: $424,451 which is +15.4% yoy
---
May 2022
May 4th: Federal Reserve raises rates a half-point, to combat inflation. Fed Funds Rate to target 0.75% and shares plan to start QT in the first week of June.
May 12th: TerraUSD (UST) lost its peg to the U.S. dollar, wiping out Luna which lost almost 99% of its value. The resulting crypto crash wiped $1T out of the US economy.
May 12th: Carvana laid off 2500 employees. The auto market is often 6 months ahead of the housing market.
May US Median Home Price: $430,980 which is +15% yoy
---
June 2022
June 10th: With the Federal Reserve starting to runoff its MBS balance this week, for a hot second, MBS went "no-bid" and prompted this article that gave everyone goosebumps (Look for the June 10th post).
June 15th: JPow increased the Fed funds rate by 0.75% at the monthly meeting, to a target range of 1.5%-1.75%. He also told buyers, essentially, to wait for a 'reset' in the housing market. Quantitative tightening (QT) begins.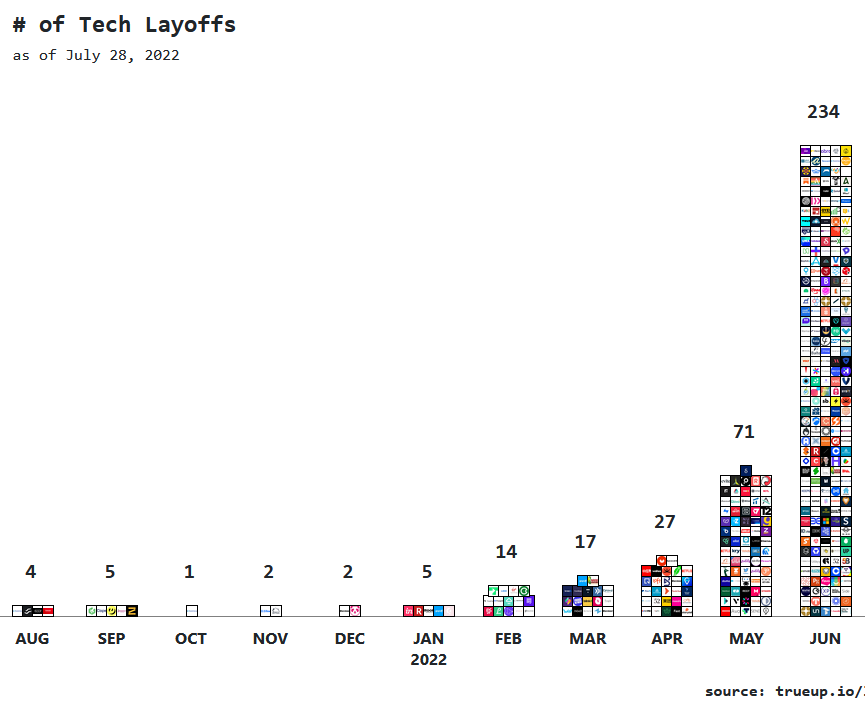 Lots of layoffs this month – Compass and Redfin laid off close to 500 employees each, JPMorgan laid off hundreds in the mortgage division. Coinbase laid off 1,100 people. A mortgage company called FGMC (First Guaranty Mortgage Corp) laid off 500 and essentially shut down operations.
June US Median Home Price: $427,844 which is +10.9% yoy
---
July 2022
July 1st: Major crypto broker Voyager Digital suspends all trading, deposits and withdrawals, wiping out scores of customers. This came after crypto hedge fund Three Arrows Capital (3AC) had defaulted on a loan from Voyager worth more than $670 million.
July 6th: Fed's QT starts to show up in the balance sheet, which fell by $22 billion from the prior week, and by $74 billion from the peak in April.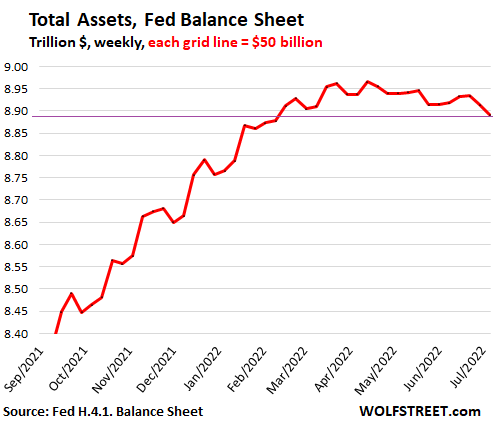 July 8th: Boris Johnson agrees to step down as prime minister of the UK, after most of his cabinet resigns. Shinzo Abe, former Japanese Prime Minister, is assassinated, shocking the world.
July 19th: I tested positive for covid! After 2.5 years of successful evasion.
July 27th: JPow increased the Fed funds rate by 0.75% for the fourth time this year, to a range of 2.25% to 2.5%.
July US Median Home Price: $412,362 which is +7.5% yoy
---
August 2022
August US Median Home Price: $406,126 which is +6.8% yoy
---
September 2022
September US Median Home Price: $403,667 which is +7.6% yoy
---
October 2022
Oct 25th: Case Shiller shows home prices rose 13% in August from the year before, a smaller jump than the 15.6% growth seen in July. The drop between July and August was the largest deceleration in the history of the index going back to 1987.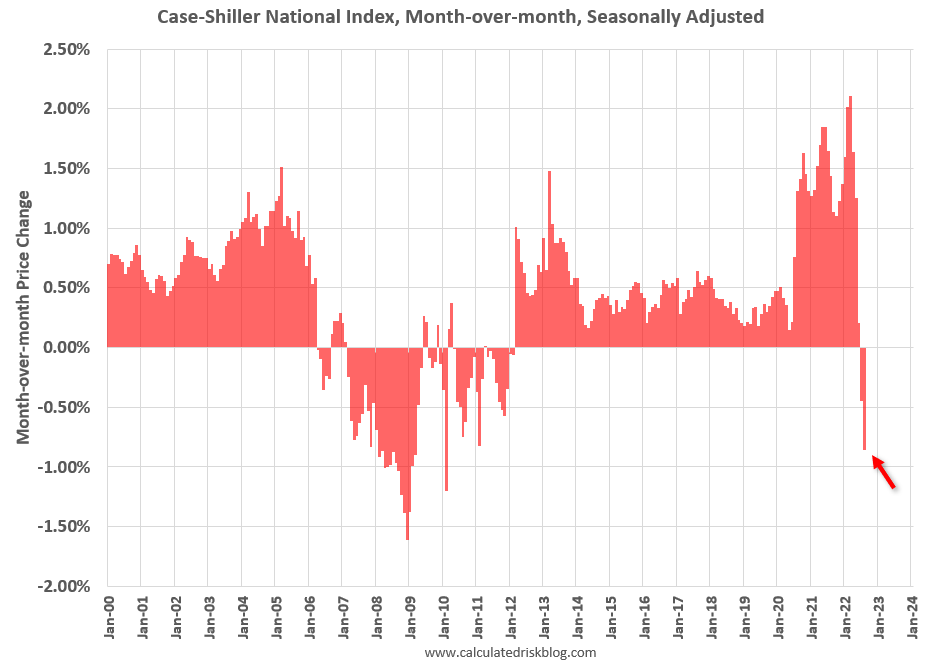 Oct 26th: In the week prior, stocks plummet a shocking amount. Amazon fell 20% in 10 minutes.

Oct 28th: Musk buys twitter and lays of its top executives. He then announces 50% layoffs of twitter staff and soon after, a complete cancellation of WFH with one day's notice.
October US Median Home Price: $ which is +% yoy
---
November 2022
Nov 2nd: Fed raises interest rates another 75 basis points—pushing borrowing costs to greatest since the Great Recession.
Nov 9th: Meta announces layoffs of 11,000 employees.
Nov 11th: FTX collapses, wiping out savings for their customers, and filing for chapter 11 bankruptcy. It's being called Crypto's Lehman moment.