Good month in San Diego, despite an uptick in sales and a drop in inventory. I'll cut to the chase, and then get to the charts.
All Altos Research data is from the San Diego-Carlsbad-San Marcos metro area.
Redfin data is from the San Diego metro on Redfin data center.
Some updates possible if I see updates from these sources.
Inventory
Inventory has peaked for the year and is now on the downtrend. I wrote a whole lot about this here, with the new Inventory Dashboard. But the short of it is, sellers have backed off from listing and are even delisting their properties. It's hard to know if they are just hoping the rates will go back down by spring and are waiting to list then.
Hopefully, they will want to relist in the spring and we might have another boost in inventory. Also in spring, San Diegos STRO Ordinance should kick in and more properties might show up for sale.
Home Prices
Even though inventory is starting to drop, which is not great news, there's a solid silver lining in median prices. I thought they wouldn't fall until inventory was closer to 4 months but here we are. A number of different sources are reporting a median price drop in home prices.
According to SDAR, median price is down $48,000 or 5% from July to August.
According to the Burns Home Value index, median price is down 5.5% from peak.
According to Redfin, median price is down 7.7% from peak.
This is amazing. As a buyer, who decided to stop and see what happens in March, I feel like I really dodged a bullet. Look at the monthly median price for a detached home in San Diego. March sales which closed in April marked the peak at a shocking 1 MILLION DOLLARS.

And today we're down to $910k. That's 90k down, 48k of which was recorded in just the last month. What a relief. This is like a fever that's broken. We have a way down to get to healthy but this is a solid start. Could turn around of course, so we'll keep our fingers crossed.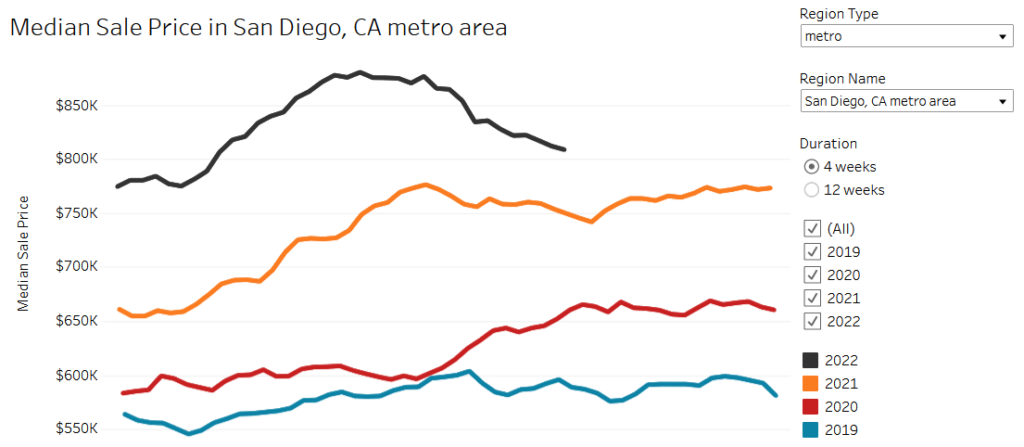 Median Days on Market
This is a good indication of market health, we really want this to get back to "normal", which for San Diego is 25-35 days. During the last two years, it actually dropped to 8 days! But now it's a respectable 23.5 days. You can see here it's better than 2021 and 2020, and steadily heading back to 2019 levels.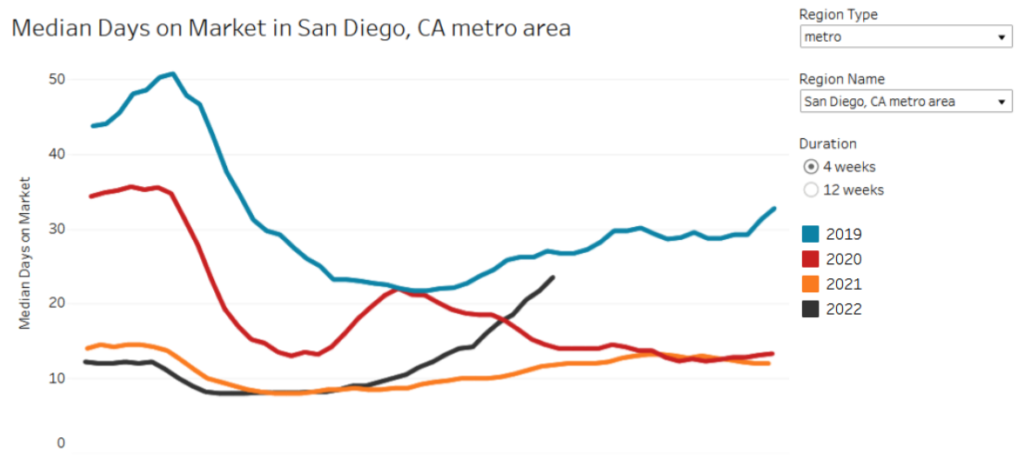 Percent off-market in two weeks is another way to assess market hotness and that too is now reporting levels cooler than 2019. Speaking of a fever breaking!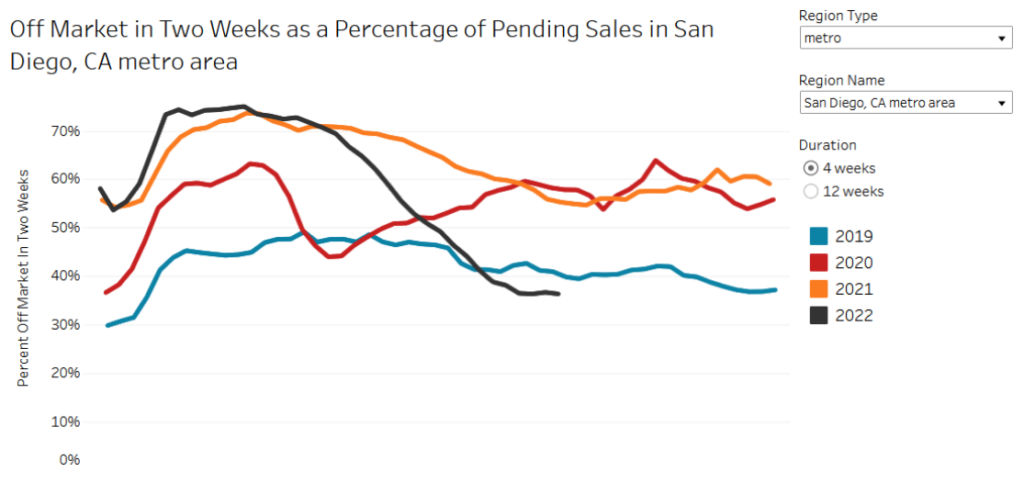 Price Drops
Price drops are also looking good. Although they dropped a touch from the peak of 39.5%, they're holding at 38%. This is important because price drops eventually turn into price declines. Remember in previous months, we saw the rising price drops but hadn't recorded the median price declines yet? The price drops are an early indicator.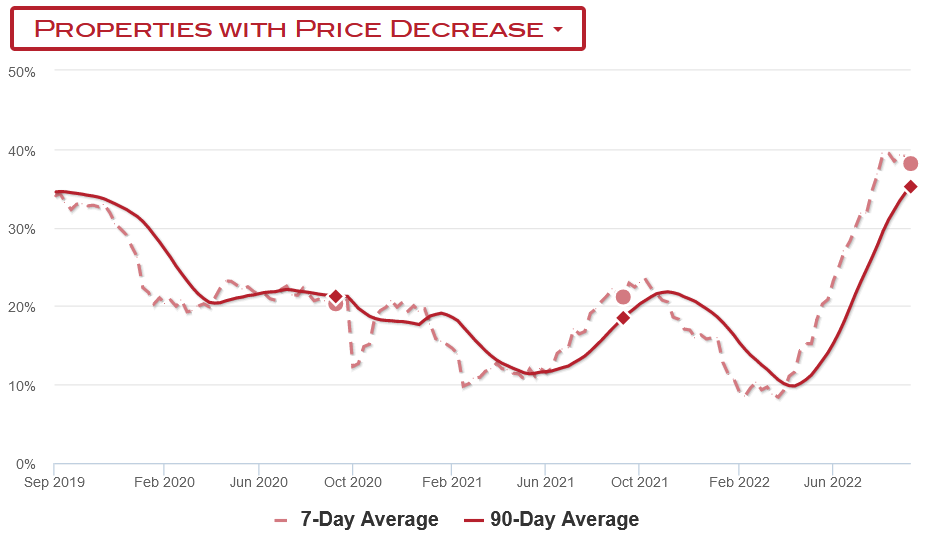 Pending Sales
Finally, pending sales. I like to look at pending sales because they are also a proxy for demand. And one which shows up earlier than actual sales. We need this to stay low for the correction to continue.
For a few weeks, there was an uptick because mortgage rates dropped. Definitely concerning, but it seems the high rates (5.97% as of this writing) are doing their job again. The uptick did not last too long.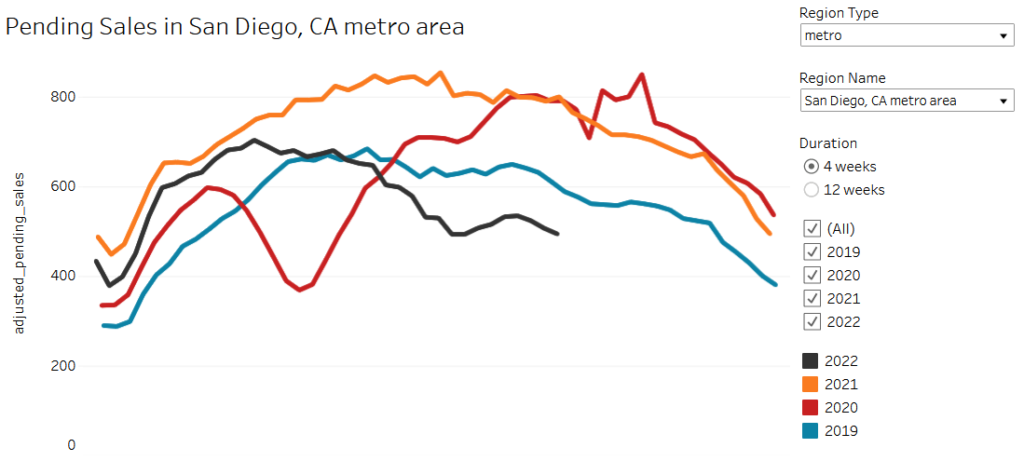 Final Words
So this past month, inventory started to drop again and there was an uptick in sales. This was largely due to the markets rallying, in an attempt to call the Fed's bluff, which resulted in lowered mortgage rates.
This definitely worried me, that we might see a reversal. But, the Fed has been doing its best to signal that it's serious about raising rates, including J. Powell's short and sweet Jackson Hole speech:
Federal Reserve Chair Jerome Powell wasted no time in delivering his keynote address in Jackson Hole this year. He got right to the point quickly: the central bank will not blink in the fight against inflation

– Bloomberg
It seems to have done the job for now, rates are back to 6% and soon we will have another increase at the next meeting.
In the interim though, those new sales set new comps, and we have a median sales price of 910,000k in San Diego for SFH. Good news for buyers, stay patient, don't buy yet, there's more to come.
Disclaimer: I'm an idiot first time home buyer. I've never taken an econ class in my life. I'm just sharing what I see and learn as it happens. I am 100% certain I will get things wrong, so don't take any of this as the golden truth.