July has been quite an exciting month. Nary a day goes by that there isn't some exciting real estate news.
Media
Some markets are cooling fast: Sellers need to be realistic
The theme of this month has been the reluctant realization that yes, some markets are going to see declines this year. CNBC provides lists of the markets cooling the fastest (San Jose, Sacramento, Oakland, Stockton and Seattle) and those that will cool the slowest.
They're also advising sellers to be wise and not expect multiple offers and bidding wars. Instead, they caution sellers not to chase the price down. The general consensus seems to be single digit corrections, though.
If your pricing is too aggressive, "it's going to be the kiss of death."
If an initial high price turns buyers away and the home languishes on the market, buyers coming across the listing later may perceive something is wrong with the property, Kowalczuk said.

– CNBC
A housing crash would sink these 16 housing markets and spare these 23
Fortune has been much more bearish this month. Honestly they are basically on board with the whole idea that this is a bubble, but are still predicting "just 16 markets". San Diego is notably, not one of these markets.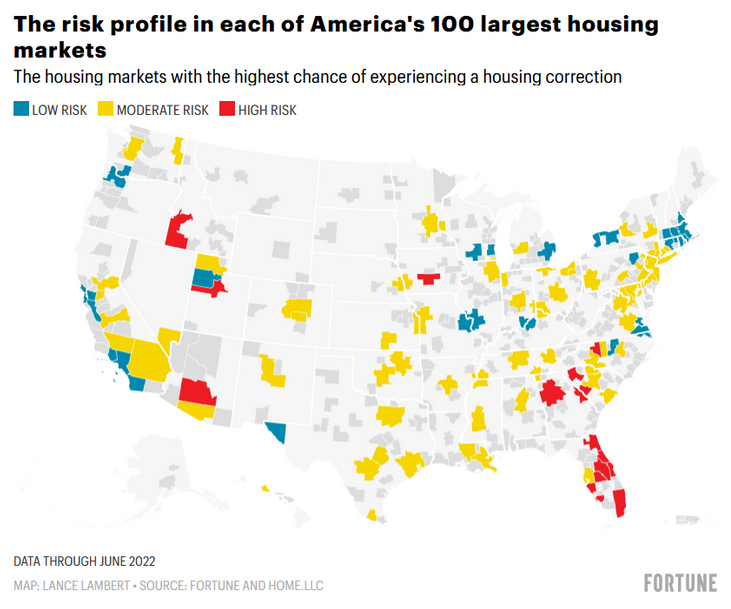 They're also beginning to notice the risky investor problem I wrote about a few months ago, noting that "there's another threat in these 'high risk' markets: investors" and "as things slow, those investors could put downward pressure on home prices."
Mortgage Giant Warns Of 'Accelerated' Downturn As Housing Market Abruptly Collapses
Forbes has this surprisingly doomer headline, in an article reporting that mortgage giant loanDepot cuts thousands of jobs as the "housing market abruptly collapses". I assume they are referring to the number of mortgage originations which have fallen off a cliff.
In another article, they state the "Housing Market 'Meltdown' Intensifies" as they report that high inflation and supply chain constraints have prompted many builders to halt construction on homes.
RE Industry
All the open house signs are just realtor trainings
Jim at bubbleinfo.com in San Diego shares that all the open house signs are nothing to worry about. It's just trainees!
It seems like there are open-house signs on every corner now.
Some may think that it's a sign of trouble, but recognize that it's realtor training in progress.
The industry is dominated by realtor teams now. Their leaders send out the trainees to do open house every Saturday and Sunday, even though the chance of selling the open house that day is close to zero.

– Jim The Realtor
Sure, Jim, lol. He did let slip there that there's "close to zero" chance of selling at the open house these days. That's quite the turnaround.
Zillow forecasting 22.7% appreciation in the Boise area
Got a hilarious email from Zillow – where they're forecasting 22.7% yoy appreciation in Boise, Idaho. Boise has proven to be one of the most overvalued locations, and has already started to slide. Zillow's own data is already reporting a 3.5% drop in the median Boise home sales price. I'm not sure how their algorithm is also predicting a 22.7% increase over the next year.

The market's undergoing a shift, not a market correction!
If you happened to catch this earlier, the realtor minions script for this month apparently is that the market is undergoing a shift, not a correction. (Next month, it will be a correction, not a crash, by the way).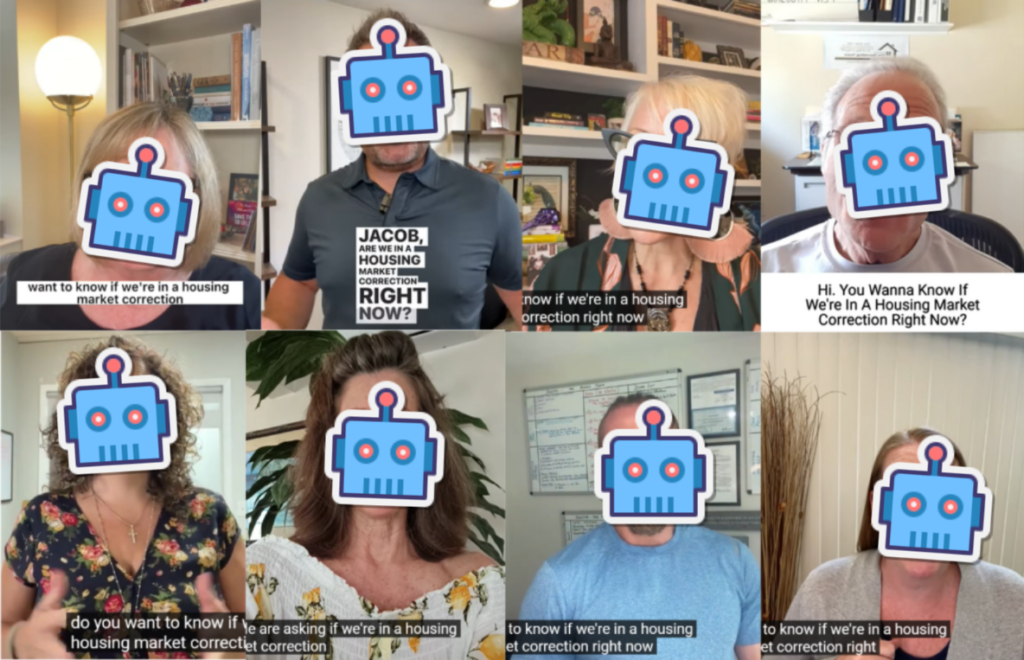 Someone found scores of realtors repeating the exact same script verbatim like robots. So if your realtor says this to you, you know where they got it from.
Anecdata
Finally, my favorite section – the boots on the ground view of regular buyers, owners, etc.
"Even if I'm not underwater on my mortgage it sucks that after 5 years I will sell and after all the fees when I bought, and the fees when i sell, I feel like I have wasted the past 5 years of my life in this house." – Seller upset that they are not able to sell for a profit after 5 years, despite having shelter for essentially free.
"My house has gone nuts on Zillow – almost 2500 saves in a few days. It's a very nice and … in a convenient location. But we have only had two showings. My anxiety is through the roof." – Seller who bought the place 3 months ago, and want to sell for about 25% more than they purchased it at.
We have DRASTICALLY reduced the price, down to the amount that we owe the bank on the mortgage. So, if it sells, we won't even make a dollar off of it. We will be taking the loss and understand that, as we don't have any other option… we are at the lowest amount and nobody wants it. – Seller already appears to be underwater
"Pull your offer, submit a new lower one with a deadline. Greedy seller about to learn a lesson." – Advice to a buyer whose seller is giving them the run-around.
Condo in the Phoenix, AZ market is listed for 300k. Has been on the market since 5/13. Is 60-70k (~20%) is below asking an insult? – Buyer wants to lowball offer.
Again, this month, there's been a real downtick in the "Got the keys" posts. While there are some FTHB still trying to buy, the reddit FirstTimeHomeBuyer forum has remarkably few of those posts compared to a couple of months ago.
Disclaimer: I'm an idiot first time home buyer. I've never taken an econ class in my life. I'm just sharing what I see and learn as it happens. I am 100% certain I will get things wrong, so don't take any of this as the golden truth.