June – the start of summer – and often, the peak of the housing market! How are things going, peeps?
Once a month, I like to collect snippets of what the media, real estate industry and regular people are saying. Why? I started this blog when I found blogs from 2007 that shared what sentiment was like then. It's really interesting to realize how the play by play felt at the time.
Media
This downturn won't be anything like the last one
CNBC is trying to reassure people that this housing downturn is nothing like the last one. At least they're now accepting that there will be a downturn. A month ago, they were still pretty proud of surging home prices.
They state that the market's in better health due to new lending regulations.
America's housing market is in far better health today. That's thanks, in part, to new lending regulations that resulted from that meltdown.

For the 53.5 million first lien home mortgages in America today, the average borrower FICO credit score is a record high 751. It was 699 in 2010, two years after the financial sector's meltdown. Lenders have been much more strict about lending, much of that reflected in credit quality.
This is a common reason given for why prices will not fall this time – higher credit scores. I wonder if they have looked at DTI and LTV as that is on much less steady footing.
The Fed plans to 'reset' the housing market
Fortune has been far more bearish lately – specifically Lance Lambert, who interprets the Fed's latest statements to be a clear shot across the bow for the housing market. I watched the Fed's FOMC speech and interpreted Jay Powell's words the same way. As Lance says, JPow said the Fed plans to reset the housing market, raising the likelihood of falling home prices.
For a moment it sounded like Powell was about to say home prices would fall. Regardless, Powell didn't rule out falling home prices. That matters.

Historically speaking, outside of the Great Depression and after the housing crash of the 2000s, year-over-year home price declines almost never happen. But today's circumstances could lead us into a rare period in which home prices do indeed fall. It's telling that Powell didn't close the door on the possibility of home price declines, and instead said "we are watching that quite carefully."
Since the Fed's guidance is essentially why we stopped searching, this was good to hear, as indirect as he likes to be.
RE Industry
Sellers are unable to sell but they won't be dropping prices
This is a optimistic view from Jim, a San Diego realtor who posts at bubbleinfo.com. While it's clear that active listings are climbing rapidly and pendings are plummeting in his area, Jim seems to think that sellers will just change their minds and put the house back on the market next year at the same price, like a hopeful 9 year old with a pokemon collection on Ebay.
There is one thing we know for sure:
Generally speaking, home sellers are not adjusting their expectations about price.
The standoff will last another few weeks, and then the unsuccessful sellers will pack it in for the year.
Don't be surprised if the 2023 pricing looks a lot like it does today!

– Jim the realtor at bubbleinfo.com
Sure, Jim, apparently housing is able to completely defy all laws of supply and demand.
Marry the house, Date the rate!
The catchphrase of the day is "Marry the house, Date the rate!". I'm seeing this a lot, It's funny how the same message seems to come in a wave from everyone in real estate all at the same time, like a hive mind.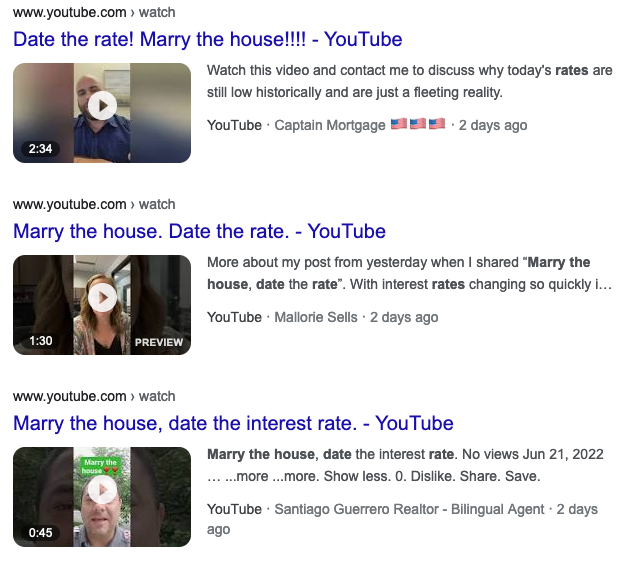 Here's the whole spiel.
"Marry the house; date the rate."

What does this mean? It means buy the house you want. But committing to the house doesn't mean you have to commit to the financing available now forever. Smart homeowners always look for a better financing opportunity, and make the move when the time is right. You can always change your financing to more favorable terms later, should better rates and products become available. And if rates only get worse, then you'll be glad you married the house when you did.
I love how they say "You can always change your financing". Really? Because there are some caveats that might matter in this environment – namely that it's quite rare to refinance. The overpriced house was not so bad at 3% rates. It's essentially the worst of the two worlds right now – high prices x high rates.
An increasing share of home sellers are lowering their asking price
From Redfin, a little more honesty as they report the rise in price drops in the spots that had outsized price growth. The share of listings with price drops has grown to as much as 40-50% in several metros.
Nearly half (47.8%) of homes for sale in Provo, UT–located about 45 miles away from Salt Lake City–had a price drop in May, the highest share of the 108 metropolitan divisions in this analysis. Tacoma, WA, had about the same share of price cuts, at 47.7%. Next come Denver (46.9%), (Salt Lake City 45.8%) and Sacramento (44.3%).
This is a leading indicator for a drop in median price but that will take several months to show up in the sales data. While these houses sit and price drop, they are not selling and therefore can't show up in sales data until they do.
Why is this happening? From Redfin:
The uptick in price drops is symbolic of the slowdown in the housing market. Many buyers are backing off amid skyrocketing home prices, surging mortgage rates, high inflation and a faltering stock market.
Anecdata
Finally some choice quotes from the man (and woman) on the ground.
"I could list my house right now for $2M and hope some sucker from the bay buys it. They wont, and then it gets reduced because I actually want to sell it, that doesn't mean the market is crashing. It means I was trying to cash out on a hot market." – Homeowner explaining why the price drops don't mean median price will ever fall.
"We have had a lot of showings, but the house is not selling. We have lowered the price, and we keep on dropping it by $5k every week… We never should have bought a house here. What a serious mistake 😩" – Homeowner forced to relocate and unable to sell house
"Because the housing market was so hot we made an offer to buy the new house before our current house sold, thinking "there's no way this doesn't sell". Well, we moved into the new house a couple weeks ago and the old one hasn't sold." – Homeowner who already bought, but the old house isn't selling.
"Buyer backed out 5 days before closing. What a nightmare. I was over here patting myself on the back for selling just before the market cooled off, but now I find myself re-listing." – Homeowner whose buyer backed out.
"The interest rates keep climbing, and it feels like I'm worse off than ever. The real estate news is extremely discouraging. I had no luck earlier this hear. I definitely don't have a chance now." – Buyer discouraged by rising interest rates.
Note – unlike last month, there has been quite a downtick in the "we got the keys!!!" posts. Either the pool of desperate FTHBs willing to buy at any price is draining quickly, or the rate locks have expired and no one qualifies anymore.
Disclaimer: I'm an idiot first time home buyer. I've never taken an econ class in my life. I'm just sharing what I see and learn as it happens. I am 100% certain I will get things wrong, so don't take any of this as the golden truth.