Yesterday's CPI reading was down more than expected and it led to a huge rally in the market. It's kind of crazy how we keep going through the same cycles. Especially since we had a stunner of a week with 11,000 layoffs at Meta and plummeting stock prices. I think this pendulum swing is part of the process.
The Price / Demand Seesaw
A cycle I keep seeing is –
30 year fixed rates go up, which leads to buyers giving up. That leads to home prices falling and sentiment degrading. Eventually expectations degrade enough that CPI and treasury rates go down. Which leads to 30 year fixed rates dropping, and a bunch of buyers jump back in.
So it's not like a steady decline, it's see-sawing between positive and negative. On the whole, in San Diego, the trend is largely down since spring this year.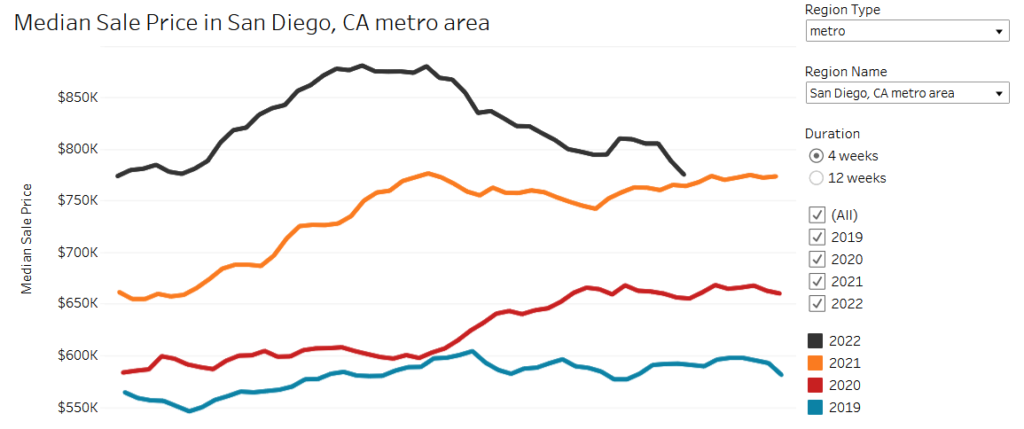 But you can see the pattern, there was a dip in rates in August, so buyers locked rates, bought over the next month, resulting in an uptick in closing prices in October.
Now rates have dropped a bit again, so we'll probably see an uptick in December or January. However I'm hoping November closings will still pull the price down.
Emotions Aside
As a buyer, it can get kinda scary when you see an uptick in prices. You start to think, is the bubble reinflating? Is it happening again? Look at 2021 – where prices rose in October and kept going up. That's certainly a worry.
But on the other hand, emotions aside, the Fed hasn't changed course. I really do believe that as long as they keep at it, prices will keep correcting. Not just the rates, which get the most press coverage, but under the hood the Fed has been reducing their balance sheet as well.
And the house prices were so correlated with their balance sheet in the first place. Just look at this graph of US home prices against the balance sheet.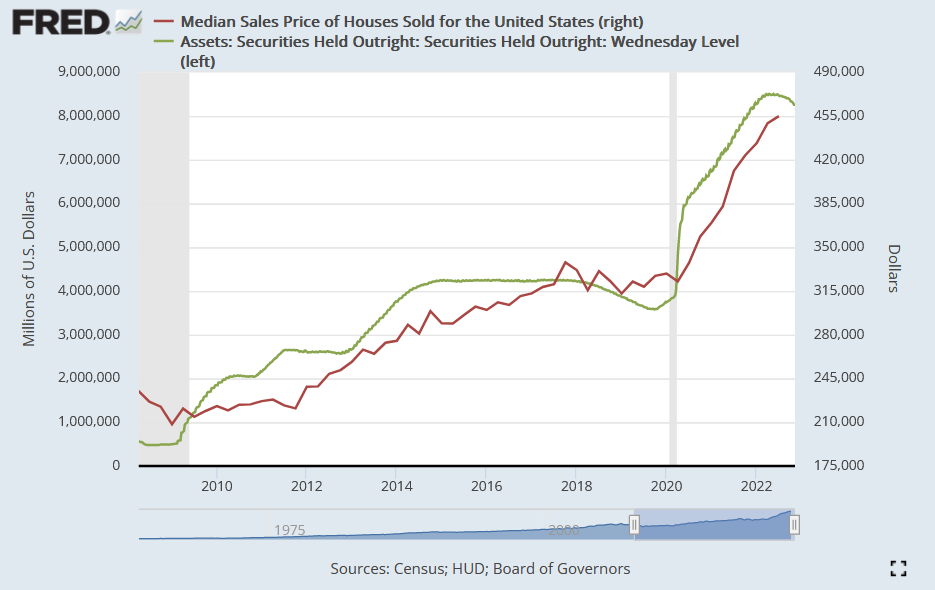 What's going to happen when that next quarter comes in?
That said, the Fed could pivot and lower rates, so I continue to watch it closely. Some people are feeling desperate and angry as they thought they could jump in and buy when they were ready. They did not conceive of rates putting home prices out of reach. Those buyers are the ones jumping in when they can, when rates drop 0.5%.
But for me, the bigger picture still shows a likely longer correction. We've barely scratched the surface of the bubble. So I'm still patient, still waiting.
Disclaimer: I'm an idiot first time home buyer. I've never taken an econ class in my life. I'm just sharing what I see and learn as it happens. I am 100% certain I will get things wrong, so don't take any of this as the golden truth.