San Diego's rental market looks impossibly tight right now. Rents have risen precipitously over the past year. This isn't surprising if you look at the vacancy rate. The vacancy rate dipped as low as 1.6% late last year. In 2019 it was around 5.5%!
But I predict it will ease up by the end of 2022. Here's some data and reasoning on why.
Why does this matter to buyers?
First off, why does this matter to home buyers?
Increase in home buyer demand: First time home buyers, such as myself, come from the pool of renters. The more renters feel stressed by rising rents, the more likely they will try to jump into the housing market to put a stop to it. They might do so even if they generally would prefer to rent.

Counterintuitively, they might pay a lot more for the mortgage than their current rent but believe that longterm they'll be glad they did, since they'll have built equity and stopped the clock on rent increases.

More renters jumping into the housing market means more demand, which makes the housing market hotter.

Increase in investor demand: Another aspect is that the higher rents go, the more inviting of a market this is to investors who want to buy homes to rent out. Small real estate investors who buy multiple houses to rent out are the bane of this boom, and they are encouraged by the tight vacancy rate and potential rent appreciation.

This leads them to bid ever higher on local housing. With the right loan product, they can even use the prospect of those high rents as income against which to secure a mortgage.
So watching rental prices and rates actually provides some insight into the future of the housing market. If rents drop, that should lower housing market demand as well.
San Diego Today
Rent prices are highly dependent on the vacancy rate. Why? Well, it's just supply and demand. If there are lots of options for renters, landlords have to lower rents to compete. No landlord wants to have an apartment be vacant for too long.
San Diego still has a really low vacancy rate today but it is improving. As you can see, the core bottomed out at 1.61% in fall of 2022 but today it has risen to 2.54%. It's still really low though, since you can see it was closer to 6% in 2019. For reference, Los Angeles is currently around 4% and San Francisco is 5%.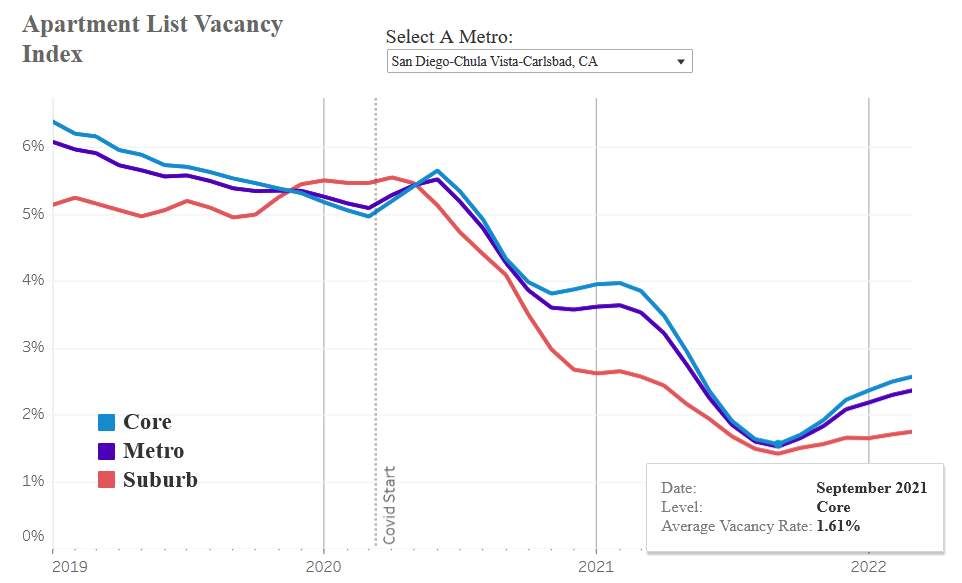 What will change in 2022?
A couple of changes are coming to the rental market in 2022.
Airbnb
A big one is the Airbnb regulations. The coastal commission recently approved Airbnb or short-term rental regulations in San Diego. This will cap the number of whole home Airbnbs to 1% in San Diego city, excluding Mission Beach which has always been a vacation rental heavy spot.
What does this mean? Well, currently we have about double that cap – 12,300. operating So we'd be slashing that down to 6500 and it will be based on a lottery. I'm not sure what Airbnb hosts are doing about this, but the smart ones will switch to renting their properties to long term tenants, which will increase rental supply. Some will offload their lesser performing properties which will increase supply in the real estate market. Either way, a win.
I recently joined the San Diego Airbnb Hosts facebook page to see what the conversation is and while I haven't seen much conversation about it, I do see people recommending against purchasing new properties to Airbnb.
UCSD Housing
In April 2021, UCSD ended their guarantee of 2 years of housing to new students. This was likely due to COVID measures attempting to reduce crowded dorms. UCSD used to have triples but switched to singles and doubles only to reduce transmission.
Due to the pandemic, the university has decided to only allow single and double occupancy room assignments. No triple occupancy will be allowed due to COVID-related restrictions. "As a result of the net loss of housing capacity, the university is not able to offer on-campus housing guarantees until Fall 2023," said Leslie Sepuka, Associate Director of University Communications.

– UCSD Triton News
Immediately, thousands of students realized they might have to rent off campus. By fall, this had turned into a crisis, as no apartments were available anywhere near campus. This explains too why rental vacancy dipped to just 1.5% last fall. Some students resorted to living in hotels near campus.
Four Marriott hotels near La Jolla offer UCSD students discounted rates for long-term stays, and a university spokesperson estimated about 20 students were staying there. … But even that discounted rate works out to about $5,000 per month.
Those who could not afford that couch-surfed and even started living in cars, sharing tips on reddit on how not to get a parking fine.


Okay, this all sounds really dystopian but how will this change? Well, this fall UCSD will allow triples again. Fingers crossed, Covid stays as manageable as it has been for the past 3 months, that should relieve some pressure. UCSD has also started construction on new housing.
It's hard to gauge how much all this will effect the rental market, because the number of Airbnbs and UCSD student apartments is definitely under 3% by my guess. But even if half of that opens up, that gets us to a 4% vacancy rate which is a start. Either way, it certainly has to improve things.
New Apartments
Another source of improvement is new housing supply coming online this year. For the second year in a row, San Diego is expecting more than 4000 apartments to complete construction and come on the market this year.
At the same time, San Diego has had a demographic downturn with more people moving away, rather than moving into the county. For the first time in a decade, the population declined.
U.S. Census Bureau data released last month showed San Diego County's population fell by 11,183 residents from July 2020 to July 2021 — mirroring the wider trend of more people leaving California's high-priced coastal urban centers.

The data raise questions about whether the state's expensive metro areas are on the brink of population declines fueled by falling birth rates, lower levels of foreign immigration and more residents fleeing for lower-cost locales.

– LATimes
Inflation pressure
Finally, there's one more reason rents should go down and that's simply inflation. Renting comes with flexibility and that flexibility means you can ditch your apartment and move away, or move in with roommates or family if you can no longer afford rent.
During the pandemic, household formation increased after the first few months as renters found they needed more space to work from home, and in some cases, found themselves at odds with roommates over covid safety measures.
Conveniently, at that time, the government handed them a stimulus check to cover a deposit, and a pause on student loans which increased monthly disposable income and could be used to offset the higher rent of living alone.
But all this is changing now. Skyrocketing rent and consumer prices is making budgets too tight again. More and more people are relying on credit cards again as can be seen plainly in this graph.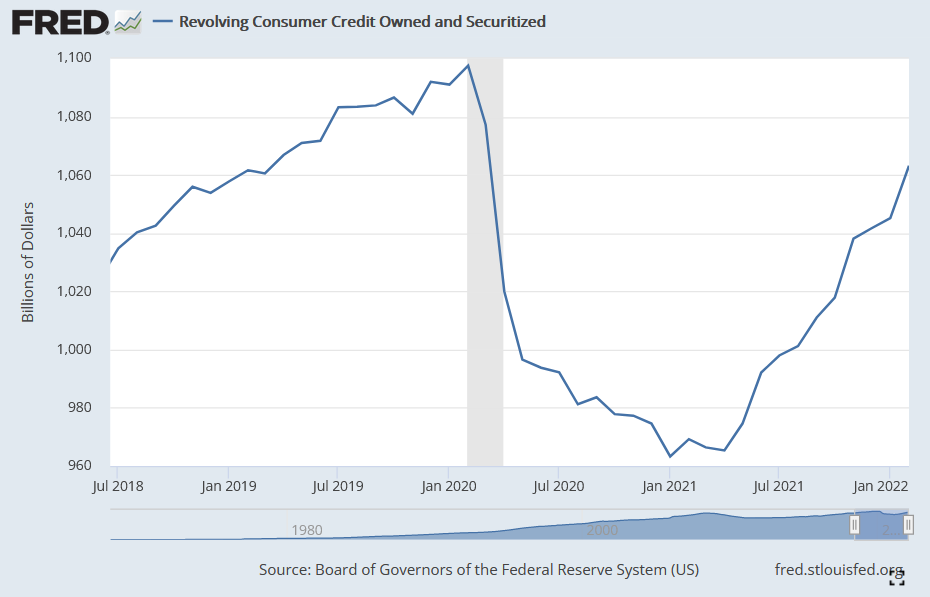 Renters who are stretched will start moving in with family or roommates to lower their expenses again. It's not happening yet in San Diego, I don't think, but renters are definitely feeling the pain. But boomtown markets like Phoenix are already seeing a change.
What to watch out for?
Of course, it's hard to forecast anything in these crazy times. So I just watch the data periodically to see how things are going. I was happy to see that the vacancy rate was already going up in ApartmentList's data, and hope we get to 4% by end of 2022. Along with that, I hope to see average rent flatline or fall. Just watching and waiting.
Disclaimer: I'm an idiot first time home buyer. I've never taken an econ class in my life. I'm just sharing what I see and learn as it happens. I am 100% certain I will get things wrong, so don't take any of this as the golden truth.