I think I missed August because I had a really crazy month at work. I'd like to think I'd go back in the google searches and reconstruct August sentiment but eh, maybe not.
Media
Homebuyers Might as Well Take the Plunge
In a rousing endorsement for the housing market, Conor Sen suggests that "affordability isn't going to get any better as shrinking inventories ensure prices will rise even if mortgage rates eventually fall."
It's probably one of the most bullish takes out there at this point. given that Zillow has even given up the mantle and accepted likely declines over the next year.
The best hope for homebuyers now might be to just go ahead and accept the higher mortgage rates and hope to refinance later.

– Conor Sen, Bloomberg
I guess we'll see what happens.
The Fed to reset the U.S. housing market through a 'difficult correction'
On the flipside, Lance Lambert at Fortune has been much more willing to say the word correction, and point out the markets that are correcting. He even made a map similar to mine pointing out the price declines from peak, but using the Zillow data.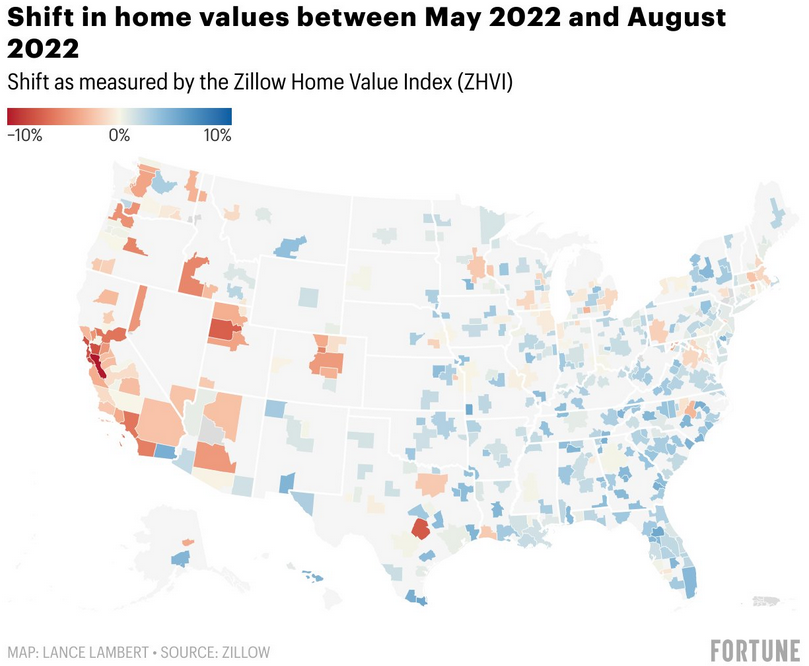 Fortune reports that the correction is spreading across the nation. And that the Fed is aiming for a correction, not a "normalization" or "plateau".
That sharp housing slowdown isn't a normalized market—it's a housing correction. At least that's according to Powell.

– Lance Lambert, Fortune
RE Industry
The Fall Housing Market Takes a Miraculous Turn Where Buyers and Sellers Can Gain Big
Realtor.com is very excited that this is an excellent time to buy. Not only is fall the best time to buy (as is spring and summer and hell freezing over) but also there's a "bumper crop of homes" for sale.
First, the good news for buyers is that fall is typically the best time to buy a home—and this autumn is shaping up to be better than usual with a bumper crop of homes on the market with a longer shelf life than they've had in the past.
They do admit that prices are falling but suggest this is simply a return to a seasonal trend.
Home prices typically decline as we move into the second half of the year, a seasonal trend that was somewhat disrupted in the overheated [COVID-19] pandemic market," says Hale. "This year's data signals a more expected pattern."
A cumulative two-month decline of 6% is "certainly unusual"
Danielle Hale's is an interesting take when Lawrence Yun, the Chief Economist from NAR, has admitted this is anything but seasonal. He's a relentless supporter of the housing market.
One average, cumulative two-month declines generally tends to be in the 2% range, said NAR Chief Economist Lawrence Yun during a Q&A with reporters after the report was released.
"So that cumulative 6% decline is certainly unusual," said Yun.

– Yahoo.com
As usual, realtor.com's message is : buy buy buy.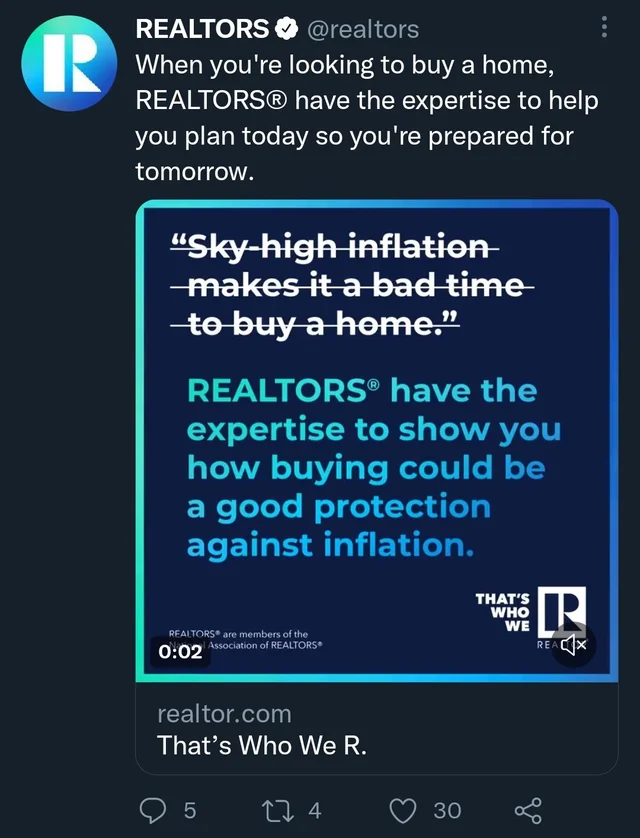 Zillow forecasts -0.3% in North Park, San Diego
Amazingly, Zillow has finally updated their forecasts and are showing declines, albeit tiny ones, for the hottest neighborhoods in San Diego. Up until a month ago, Zillow was still forecasting ridiculous numbers, like 22% appreciation for Boise, Idaho. All of a sudden, they seem to have given up and corrected the forecasts from their ridiculously optimistic stance to a slightly optimistic one.

Overall, they are predicting national home prices will gain 1.4% over the next year. I don't know if they genuinely believe this, or if they're slow-walking their predictions to keep the market going. Either way, their forecasts are useless.
The best time to buy is now
No matter what the rate, price, season, market – the best time to buy is now if you ask anyone in the RE industry. Here's a quote from Gilbert Bennett, a mortgage loan originator.
And despite higher rates, he said it's still a good time to buy.

"Anytime you buy a home, the time in my opinion is now because you miss out on equity. You miss out on growth. You miss out on your return on investment when you wait."

– ABC Action News
Anecdata
"We want to live in a house where we don't have to worry about being discriminated for existing."
– Homebuyer who passed on a house due to potentially homophobic neighbors. This isn't an overtly "market" comment but I am glad to see buyers being discerning again, about what they buy and where they buy. This is a sign of buyers having some power in the market again.
"I know that no one has a crystal ball to predict the future of mortgage rates but if it was you, would you buy in the beginning of 2023 or wait another year and purchase in 2024?" – First time homebuyers wondering whether to buy or wait.
"I can afford the payment increase but it feels like I made a very bad Financial decision. This makes my house payment 51% of my take home pay after all deductions." – First time home buyer realizing his HOA, on top of the mortgage payment, is 51% of take home. This is 36% of gross but still feels rough.
"And on the bright side, if rates ever do go down (they will eventually, it's just a matter of when) you can always refinance down to a lower rate!" – Advice to the worried buyer. Hear this a lot – they neglect to mention, if the home is underwater, you most likely can't refinance.
"Interest rate is temporary, purchase price is forever. Biggest piece of advise I was given. I buy based on price, not interest rate. In your shoes, I would buy now." – I thought this person was going to say, wait till prices adjust. But they are so sure that prices will go UP that they suggest the buyer buy now. Rates are at 6.7% today.
"How would a 10 or 20% price drop affect a new construction deal? … if the purchase is complete and the downturn kicks into gear later in the year, the buyer is underwater year 1 of their purchase?"
– First time home buyer considering what happens in the case of a possible price decline. Glad to see it.
Disclaimer: I'm an idiot first time home buyer. I've never taken an econ class in my life. I'm just sharing what I see and learn as it happens. I am 100% certain I will get things wrong, so don't take any of this as the golden truth.