Sorry folks, this is quite a bit late, being written in mid-October. But work has taken a lot of my time lately. August's uptick in sales resulted in a median price uptick this month. That's not great but it was due to the low rates, now that rates are up, pending sales are dropping again and we shouldn't see another uptick in October.
All Altos Research data is from the San Diego-Carlsbad-San Marcos metro area.
Redfin data is from the San Diego metro on Redfin data center.
Some updates possible if I see updates from these sources.
Inventory
Inventory has been dropping in September, which is largely due to very few new listings. Both sellers and buyers have been "on strike". Since I'm a little late to write this, I should mention that we've since seen increases in October but September was a downtrend.
You can investigate more about this using the Inventory Dashboard.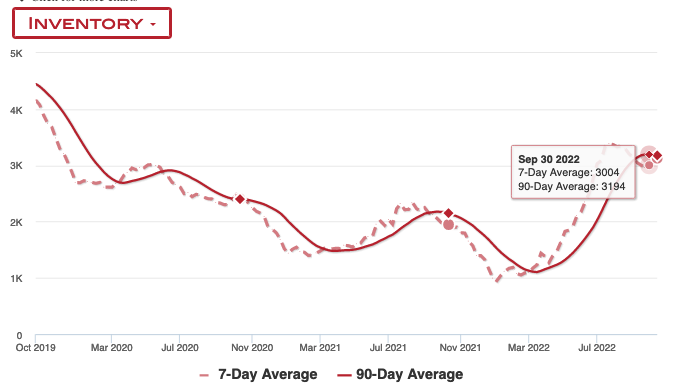 Home Prices
Home prices for the month ticked up, which is not great. This is likely because August had a brief period of lower rates, which led to offers that would have closed in September. This can always happen if we get lower rates again, but so far rates have largely held high in September.

According to SDAR, median price is up $15,000 from August to September. (In their August report they listed 910k as August's value but seem to have revised that down to $900k).
Redfin's data echoes this uptick. The absolute value is different, because it's different source data and aggregates condos and SFHs but the pattern is similar.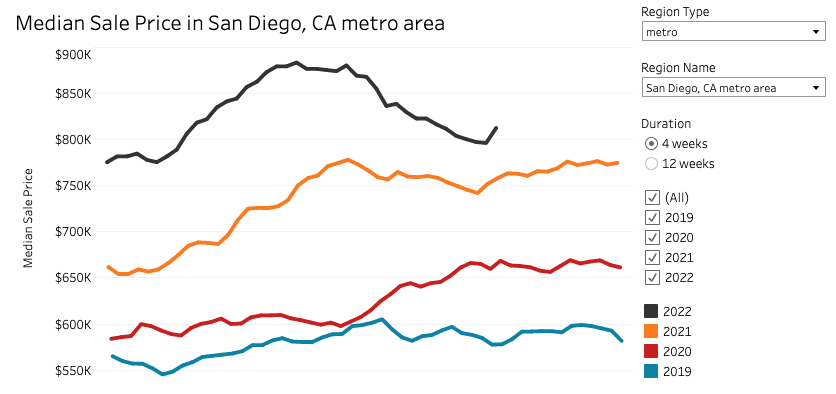 This shows us that drops in rates absolutely can have a reheating effect on the market. With that in mind, I am keeping my down payment ready should I need to jump back in again quickly. The Fed has reiterated that they won't drop rates but you never know.
Median Days on Market
Days on market is the number of days the home is listed but before it goes pending. It only counts the homes that actually do go pending. Houses that just sit don't show up in this stat. It's a way to tell how fast homes are moving.
Normal for San Diego is 25-35 days. During the last two years, it dropped to 8 days! Currently moving up fast and is at a pretty decent 27.5 days.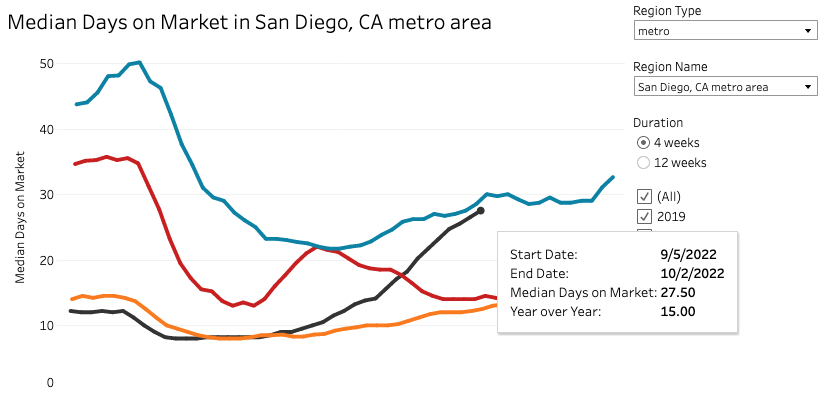 Percent off-market in two weeks is another way to assess market hotness and while that cooled fast in August, it heated back up in September. However, it's the same as 2019 so still in normal territory.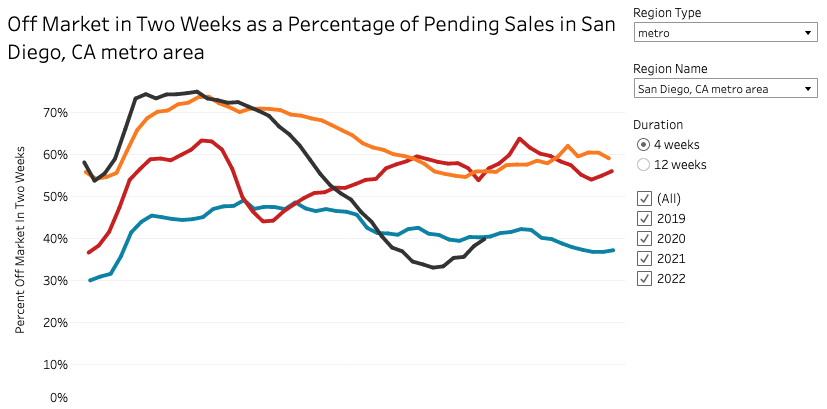 Price Drops
Price drops are holding steady between 38-40% – this is also good news. Today's price drops are tomorrow median price declines.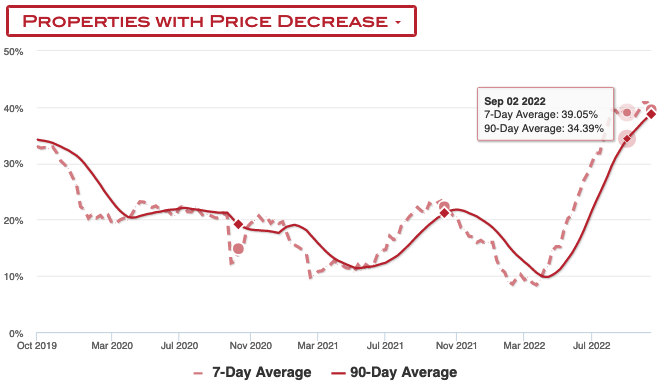 Pending Sales
Pending sales are also a proxy for demand and is less lagging than actual sales. We need this to stay low for the correction to continue.
You can see here the uptick that happened when mortgage rates dropped. But since then the numbers have retraced their journey back down, hitting levels only seen in the depths of the holiday season.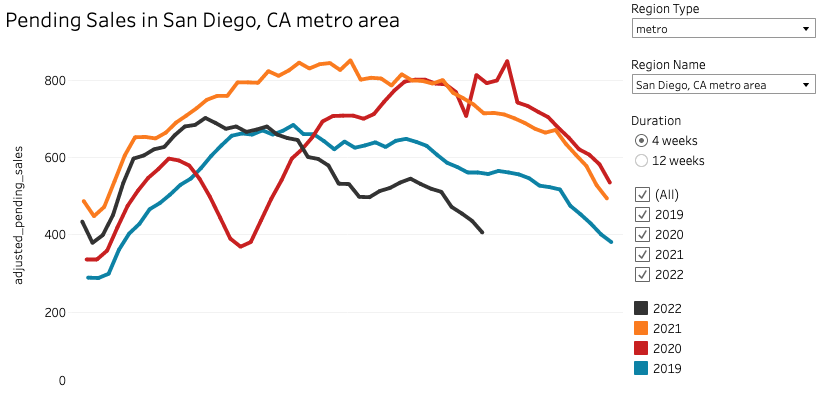 Final Words
So in September, we had bit of a flattening of stats, inventory drop again, prices up, sales down. There's a bit of seesawing here as the market tries to adjust to the rapidly changing realities. As long as rates stay high and pending sales stay low, I'm not alarmed by this.
Patience is the name of the game right now.
Disclaimer: I'm an idiot first time home buyer. I've never taken an econ class in my life. I'm just sharing what I see and learn as it happens. I am 100% certain I will get things wrong, so don't take any of this as the golden truth.