A few months ago I wrote about the upcoming STR ordinance here in San Diego. At the time, I thought that it would be implemented this fall but I've recently found out more about the timeline. So I figured I'd update here with the latest info.
STR Ordinance
The ordinance affects largely those who are renting out a whole home on Airbnb, VRBO etc. It's going to require that anyone who rents a dwelling for less than one month is required to have a license. There are 4 tiers of license and the top two are applicable to whole home STRs. The whole home licenses are capped in number.
For whole home rentals in Mission Beach, they are capped to 30% of total units in Mission Beach.
For whole home rentals not in Mission Beach, they are capped to 1% of units not in Mission Beach.
Why does it matter?
It matters because currently there are something like 12,000 whole home rentals but less than 1000 homes for sale in San Diego city. So when the ordinance happens, around 5800 units will not win the license and sellers will have to decide what to do with those rentals.
They could turn them into long term rentals or choose to sell them. Either way, that should relieve some pressure on the rental or purchase market. Here are some numbers I found in an earlier article.
Read more on why Airbnb regulation matters in San Diego.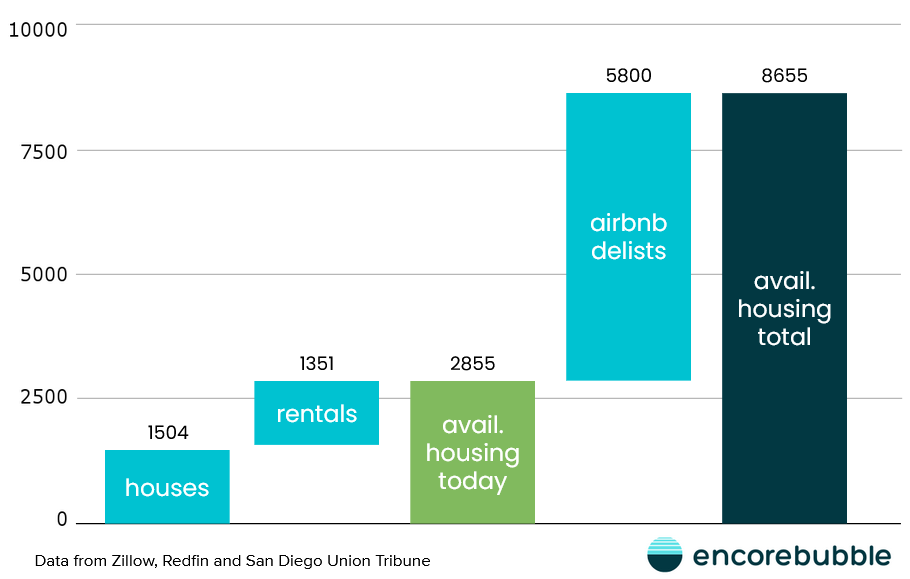 At that time, total homes for sale or rent in San Diego was just ~2900. So 5800 homes coming on the market would triple the available housing.
Timeline
So what has changed? Well we now have a timeline. Originally I thought that the ordinance would be enforced in the fall but it looks like it's further out than that.
The application process for the licenses will completed Nov 30, 2022.
The lottery will be conducted Dec 16, 2022.
The ordinance will be implemented May 1, 2023.
Here's a useful visual created by the city of San Diego.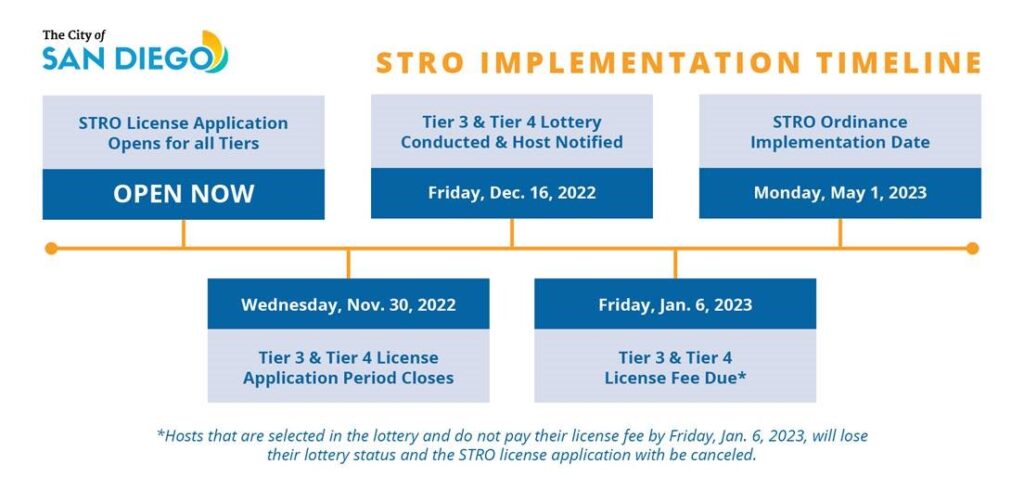 In other words, come late December, about 50% of whole home Airbnb owners will be informed that they've lost the lottery and can no longer rent out their homes short-term. Then, they have to decide what to do about it by May.
The majority will choose to long term rent or sell, either increasing vacancy rate in Summer 2023 or increasing house inventory. Both are good for housing in San Diego.
For more info on the regulation, head to the San Diego STRO Ordinance website.
Illegal Airbnbs
There may be a minority that decide to continue short term renting and skate under the radar. Not entirely sure how the city intends to find those without Airbnb's collaboration.
I did notice they have shared the list of active vacation licenses on their data site. So I created a map of the vacation licenses to aid people in verifying if an airbnb is legal.
Click below to access the interactive map with addresses and license status.
Is Airbnb bad?
I'll be honest, I'm not against Airbnb or STRs in general – I've actually have stayed in many. However, when unregulated, they have the potential to make housing unaffordable for actual residents of a city. Cities also haven't properly taxed them as they would any normal hospitality business. Some were also bought with tax benefits aimed at homeowners.
There is a version of STR that works, but it requires more thought and planning. The sudden proliferation of them has been blatant speculation fueled by both the Federal Reserve's cheap money, and pandemic-induced migrations. We need to get back to a better balance. Everything in moderation – Airbnbs included.
"Just two percent"
Some people believe that there are just too few to make a difference. They make the mistake of comparing Airbnb stock to total housing stock – "oh it's just two percent" of all houses. They should be comparing to vacant rentals or housing inventory.
There's a reason why we talk about inventory as a barometer of the housing market health. Inventory is not supply or total stock of houses. It's just those that are on the market. That's what drives market dynamics and sets median sale and rent prices. The parallel to "inventory" in the rental market is vacant LTRs. Not total rental stock.
Read more -> Inventory is not supply.
Personally, I think at no point should there be more STRs on the market, than homes for rent or sale, as we have currently in San Diego. If 5000+ homes end up released to the rent or sale market here, come next year, I believe that balance will be restored.
Disclaimer: I'm an idiot first time home buyer. I've never taken an econ class in my life. I'm just sharing what I see and learn as it happens. I am 100% certain I will get things wrong, so don't take any of this as the golden truth.